Is UK Property Still A Foundation For A Balanced Portfolio?
Much has been reported about Brexit and how stable is the property market? Many were predicting property prices to plunge. In fact, the opposite has happened.
What is happening with Brexit? Theresa May has tried and failed 3 times to pass the Withdrawal Agreement through the house of commons. And has since announced she will be stepping down. With No Deal and a second referendum potentially still on the cards; The Question is, what could be more Unpredictable Than Brexit?
The Answer Donald Trump!
In a bold move, the Trump administration are to impose new tariffs on Mexico. The tariffs will rise by 5% each month until it reaches 25% in October if the number of people crossing the border doesn't "come down substantially", the White House acting chief of staff, Mick Mulvaney, said.
The move sparked a mass sell-off as stock markets worldwide were rattled by fears of an escalation in trade tensions.
"Mexico has taken advantage of the United States for decades," Trump said, via Twitter. "Because of the Dems, our Immigration Laws are BAD. Mexico makes a FORTUNE from the U.S., have for decades, they can easily fix this problem. Time for them to finally do what must be done!"
The Trump administration's decision led to a sell-off in stock markets around the world. In the US the Dow Jones Industrial Average fell 355 points, or 1.4%, at the close of trading. In London, the FTSE 100 dropped 0.8% as all the European markets fell.
Mexico is the US's largest trading partner. Amid the backdrop of Brexit, it seems that the US is also building barriers to trade with its largest trading partners. However, the UK system means before any barriers can be put up, they must enter drawn-out parliamentary theatrics in the name of democracy. Unlike the US where a single tweet by the president has the potential to spark frenzy in the markets.
Stock Market at Risk due to Trumps 'Grave Error'
Last year Mexico sent an estimated $346.5bn of goods such as avocados, tomatoes, clothes and cars across the border. A 5% tariff would amount to a tax increase of more than $17bn that will largely be passed on to US consumers.
One of Washington's most influential lobbyists, The Business Roundtable branded the decision a grave error. "Business Roundtable strongly urges the administration not to move forward with these tariffs, which would create significant economic disruption and tax US workers, farmers, consumers and businesses," it said in a statement.
International property investors in countries such as the United Arab Emirates with dollar-pegged currencies who are looking to invest in the UK. Should keep a keen eye, on what is happening in Washington, as a movement in the value of the dollar would reduce buying power in the UK if trade wars with the US escalate. Read More: Buy UK Property From Dubai
Overseas Buyers Continue to Invest In UK Property
Brexit scaremongering has been rife by the tabloid media for the last 3 years. However, overseas property investors have no reason to be worried. Whatever the outcome of the Brexit negotiations, their impact on residential property markets will be negligible at worst, with a strong likelihood of being very favourable to international buyers.
Foreign investors have largely been undeterred by the Brexit drama. Half of all UK property acquisitions in 2018 were made by overseas investors report JLL, totalling £55 billion (USD $69bn or HKD 558.7bn). It is estimated that, in London, foreign buyers accounted for 79 percent of transactions. With certainty restored following Brexit, 2019 is expected to see even greater overseas property investment in the UK.
"Throughout 2017 and 2018, investment volumes surprised on the upside and the UK has maintained its resilience," explains JLL's head of UK Capital Markets, Alistair Meadows. "Global investors tend to think long term and are not as preoccupied with Brexit."
Overseas property buyers are advised to have a perspective beyond Brexit. Focussing on to other factors which have more direct relevance on the markets; such as stamp duty hikes, government housing initiatives, shifting space requirements for offices and the impact of new technologies on construction.
Tangible Assets
If global stocks continue to be volatile, there could be many investors looking to hedge their portfolio with tangible assets, which are less susceptible to such volatility. Therefore the question is UK Property still a foundation for a balanced portfolio answers itself! The UK property market offers a great diversification opportunity to stock heavy investment portfolios, it's tangible, stable, provide monthly income and has strong long term growth potential.
The UK property market remains stable, recent data released by HMRC; shows residential property transactions in the UK decreased by just 0.3 per cent, between March and April on a seasonally adjusted basis. However, the number of homes sold actually remains 0.8 per cent higher than in the same period last year.
Furthermore, a total of 99,420 properties were sold last month in the UK; a marginal change from March when 99,740 transactions were completed. However, this figure actually represents a slight increase of 0.80 per cent on a year-on-year basis; which saw a total number of 98,620 sales in April 2018.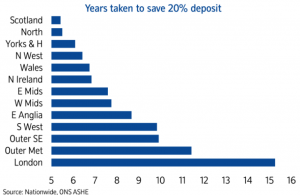 From the Nationwide House Price Index May 2019.
The main issue facing young aspiring first-time buyers is raising a deposit. The chart shows average time it would take someone earning the typical wage in each region setting aside 15% of their take-home pay each month to save a 20% deposit to buy the typical first-time buyer property.
Even in Scotland and the North, where property appears most affordable; it would still take someone earning the average wage and saving 15% of their take-home pay each month more than five years to save a 20% deposit. In Wales and Northern Ireland, it would take prospective buyers nearly seven years, and almost eight for those in the Midlands.
Is UK Property, Still A Foundation For A Balanced Portfolio? Another benefit for property owners is the current market conditions; current affordability ratios across the UK mean homeownership for young working professionals is a challenge due to large deposits needed. For this reason, many are living in private rented accommodation for the long term. The average tenancy is now 4.3 years.
Is UK Property Still A Foundation For A Balanced Portfolio if London House Prices continue to fall?
Where the majority of the UK House Prices Defy Brexit; London house prices continue to fall while values in the North and the Midlands are rising, significantly outperforming the South. Read More: Why Invest in Liverpool?
Further Details Here Manchester Buy to let – Completed and Fully Managed
The most buoyant market was Wales asking prices grew 4 per cent.  Followed by 3 per cent in the West Midlands. 2.6 per cent in the North East and 2.1 per cent in the North West; according to the latest Rightmove asking price index.